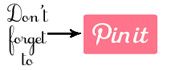 Miss J and I have been putting our heads together to come up with something cute and non-food related to give out at her class V-Day party......
If you've read my other blog, Clean Eating in Texas, you know that we have really changed how we eat in the last year. That said, I wanted something non-sugar for Miss J's little pals.
Pinterest came to our rescue....here is our Valentine gift!
(FREE printable at the bottom of the page!)
Bag Topper (download for free below!)
Print off the bag toppers. I did two per page.

Put loopy straw in treat bag.

Fold your bag topper in half, and staple your bag topper to the top.

DONE!
Now, that should be about THE easiest V-day gift, Ever!
Download your Treat Bag Topper HERE!