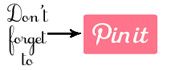 I know you've heard of writer's block.
Well, I have blogger's block!
I've been trying to come up with a fun new project to share with you. No luck yet!
Sorry for the lack of posts. Vacation, and the life of a SAHM have kept me busy!
Stay tuned for another fun project....SOON!