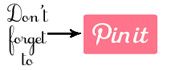 I've been wanting to "frame" the mirrors in our bathrooms for like.....forever!
I've always been a little intimidated by it. What if I messed it up?
Well, I'm here to tell ya that it is pretttttty easy!
Here's the mirror
before
Here it is
after!
A close up of those beautifully mitered corners.....
Sigh. Love.
I think it turned out pretty great for $20!
Come back later this week for the FULL tutorial!