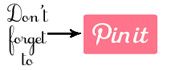 I never know what is going to inspire my next DIY project.
It got me thinking.....could I make one myself??
Aren't they SO cute?!
Bic Pens
Drill
Measuring tape
Spray paint
"Topper" for your stand (I just used ribbon)
Disassemble your bic pens, like so:
I choose Ballet Slipper, a very girlie pink, since I am making a Valentine's Day tiered tray.
(Just in case you were wondering, you will be using the "pens" to cover up the threaded rod)
Measure your plates to find the EXACT center. Mark with a pen.
Place your plate on a wooden block (or surface you don't mind drilling in to), and drill a hole in your plate at the spot you marked.
If you are unsure about how much pressure to use, try drilling on a "practice plate".
Your plates should now have nice holes like this:
Take your threaded rod, and push it gently into your bottom plate.
On the bottom of your large plate, put on a nut, and make it level with the bottom of your plate. Like this:
Slide on one of your spray painted "pens", and top with another nut.
Gently slide on your smaller plate, and top that with a nut, and then a spray painted "pen".
Top your spray painted "pen" with another nut.
Time to cover up the top of your tiered stand! I used some matching ribbon, and called it good!
Pile high with goodies, and enjoy!