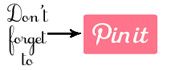 They all have amazing products, and ALL THREE will be doing a GIVEAWAY in the near future. Stay tuned peeps! The lucky winner could be you!
The Vintage Pearl has truly beautiful jewelry. Who doesn't love something personalized? This jewelry is 100% customizable, and they ship internationally. Look here when you need a truly unique and beautiful gift.
HouseHoldWords is a great shop that specializes in vinyl products. She has some
unique
, and
different
designs you might not have seen in other shops. Any of her products can be customized to the size and color you need! Again, who doesn't love vinyl?!
DiscHangers.com
is the easy way to hang your favorite stoneware or plates.The Disc Plate Hanger sticks to the back of the plate, holds it flat and secure against the wall and cannot be seen.
These hangers are CHEAP peeps, and will work way better than the stuff you see in stores!
Look for GIVEAWAYS galore in the near future!