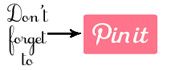 If not, you are missing out on a seriously cute blog! Kierste has so many original and fun ideas.
Want to know how to make an adorable burp cloth in five steps??
Seriously, five steps!
If you can sew a straight line, you can make these!
Check out the tutorial
here
!