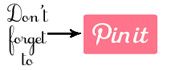 Reason #1,000 not to buy throw pillows from a store:
They are

ALWAYS

cuter when you make them yourself.
It will be
CHEAPER
to make them!
Chances are, any pillow you buy will not be exactly what you want.
Making your own throw pillows gives you so many more possibilities.

Think about it......

take the plunge

and

make your own pillows

!!


TOTAL COST for 6 throw pillows: $30.
I bought $15 in fabric (I bought niiiice fabric!)

$15 for 3 pillow forms
Check out the price of a cute throw pillow next time you are at Target, Pier 1, or Pottery Barn. Ummmm.....expensive! No way could you get 6 cute pillows for $30!
If you don't know how to sew, and want to make NO SEW throw pillows, check out this great tutorial
here


If you want a tutorial on how to make your own pillows, leave me a comment!

I'm linking up at Get Your Craft on!