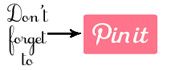 A Little of This, a Little of That was started in January 2010 and has grown
rapidly
since. A Little of this, A Little of That is averaging about
5800 page loads per week and 3000 unique visitors per week
(updated March 2011 stats from statcounter.com). Each month, the number of unique visitors and page loads increases. In February 2011, this blog had 50,000 page loads and over 27,000 unique visitors!
There are currently over 1111 followers, and 244,769 hits.
1 month 120x120px ad: $10.00
3 months 120x120px ad $25.00

*
6 months 120x120px as $50.00

If you sign on with A Little of This, a Little of That for at least 3 months, we will welcome you with a welcome post. We also include a sponsor "Thank You" post every few months to highlight your products and thank you for your sponsorship.
Contact me at
alittleofthis.alittleofthat.blog@gmail.com
to advertise today!